5 Remote Outsourcing Myths to Know for 2020
By Mateusz Jachna
作者 Mateusz Jachna
January 31, 2020
2020年1月31日
Misconceptions about outsourcing confuse business owners and make them question the benefits of cooperation with remote service providers. To separate facts and myths, you must first know the difference between remote working, outsourcing, and other related terms.
针对外包的错误想法使企业所有者感到困惑并造成他们对于同远程服务提供商的合作收益产生怀疑。为了区分事实和误解,您必须首先了解远程工作、外包以及其他相关术语间的区别。
Should you outsource or build your team in-house? As digital technology continues to evolve, business is undergoing a radical shift toward greater mobility and flexibility. Companies increasingly adopt diverse working patterns, delegate projects to remote staff, or outsource teams.
您是否应该外包或建立您的内部团队?由于数字技术持续发展,商业正在经历朝着更加机动性和灵活性方向的彻底转变。企业越来越多地采用多样的工作模式,将项目委派给远程员工或外包团队。
However, at 6Minded, we can still see many of our clients (usually startups and small business owners) perplexed by the distinction between remote teams, offshoring services, and outsource service providers. They miss the opportunities for growth that hiring external teams presents, falling victim to popular misconceptions about outsourcing.
然而,在6Minded (6minded.com),我们仍然能够看到我们的许多客户(通常是初创公司和小型企业所有者)被远程团队、离岸服务、和外包服务提供商间的区别所困惑。他们错过了雇用外部团队带来的增长机会,成为针对外包流行的错误想法的牺牲品。
To clear up this confusion, we look at various modes of engagement with a remote workforce and dispel five common myths about remote outsourcing teams.
为了解决这项困惑,我们思考了多种同远程工作人员的协作模式并消除了五种普遍的关于远程外包团队的误解。
5 Myths About Remote Outsourcing
关于远程外包的五个误解
1. Remote outsourced teams speak poor English
远程外包团队的英语很差
2. Hiring remote teams makes sense for IT and financial divisions only
雇用远程团队只对信息技术和财务部门有意义
3. Only big companies outsource
只有大公司才外包
4. Communication barriers are impossible to overcome
交流障碍不可能被克服
5. Working in different time zones is a hassle
在不同时区工作是一种麻烦
What Are Remote Teams?
什么是远程团队?
Cambridge Dictionary offers a succinct definition of remote working: "A situation in which an employee works mainly from home and communicates with the company by email and telephone."
《剑桥字典》对远程工作给出了一个简明的定义:"员工主要在家工作,并通过电子邮件和电话同公司沟通的情况。"

The word "employee" is crucial here.
"员工"一词在这里至关重要。
Remote working is when internal company employees work in a location separate from the company's office. It usually applies to a fixed working arrangement, where a person permanently works either from home or another place outside of the business office.
远程工作是指当公司内部员工在与公司办公室分开的地点工作。它通常适用于固定的工作安排,即一个人长久地在家或在企业办公室之外的其他地点工作。
What Is Outsourcing?
什么是外包?
Outsourcing always involves a third-party. It is a process of moving business functions, such as accounting, marketing, HR, or customer services, to an individual or company that's an independent business entity.
外包总是涉及第三方。它是一个将诸如会计、市场营销、人力资源或客户服务等业务职能转移到作为独立业务实体的个人或公司的过程。
Contrary to popular belief, outsourcing doesn't refer only to the execution of menial tasks, but it increasingly involves complex business processes that require expert skills.
与普遍观点相反,外包不仅仅指执行琐碎的任务,而且它越来越多地涉及到需要专家技能的复杂业务流程。
Depending on the outsourcing model, companies may move entire divisions to a third-party, or delegate some tasks only to be executed by the provider.
取决于外包模式的不同,公司可以将整个部门转移到第三方,或将某些任务只委托给提供商来执行。
For example, an organization may have an internal team in charge of the marketing strategy but lack content production specialists to create assets. In such a case, it may outsource content planning and creation to an external provider that will deliver content under the guidance of in-house marketing strategists.
例如,一个机构可能有一个内部团队负责营销战略,但缺少内容生成的专家来创造有价值的资源。在这种情况下,它可能会将内容规划和创作外包给外部提供商,后者将在内部营销战略师的指导下交付内容。
While cost-efficiency is a strong driver of outsourcing, companies increasingly reach out to external providers to get access to specific skills they lack in-house, speed up project execution, and free up employees' time.
由于成本效益是外包的一项强大驱动力,公司越来越多地同外部提供商接触,来获得他们内部缺乏的特定技能、加速项目执行、并腾出员工的时间。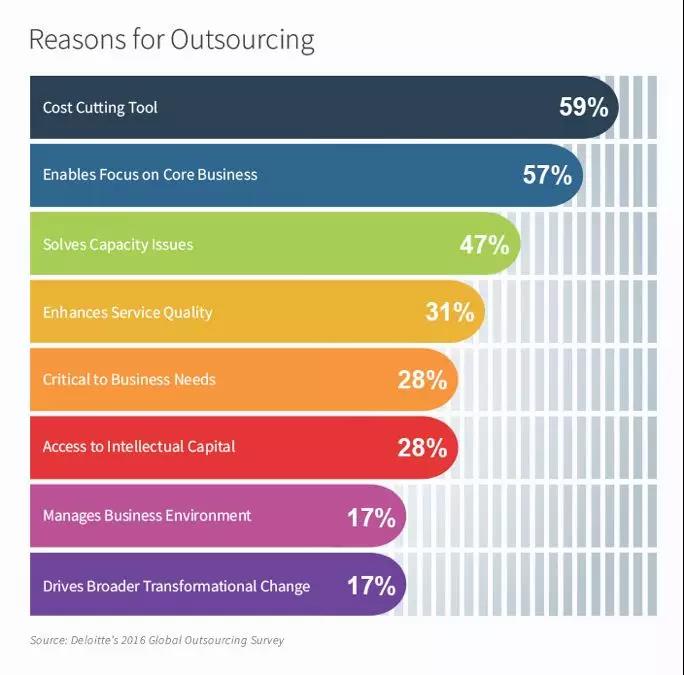 Cost-efficiency is still the chief motivation behind assigning processes and services to a third-party, but outsourcing presents many more advantages to businesses today such as allowing internal employees to focus on their core role and solve capacity issues.
成本效益仍然是将流程和服务分配给第三方背后的主要动机,但外包为当今企业呈现了更多的优势,例如使内部员工能够专注于他们自身的核心角色并解决能力问题。
What Is Offshoring?
什么是离岸外包?
Offshoring is an outsourcing model that focuses principally on lowering costs.
离岸外包是一种主要聚焦于降低成本的外包模式。
Offshoring takes advantage of discrepancies between developed and emerging economies. Companies that offshore transfer processes abroad to save on the cost of labor, operating expenses, and tax incentives.
离岸外包利用了发达经济体和新兴经济体之间的差异。公司选择离岸将流程转移至海外,来节省劳动力成本、运营费用和税收优惠。
Some definitions of offshoring also point out that it may require a service provider to be a subsidiary or a partner company to the client, while a "pure" outsourcing company is always autonomous.
一些针对离岸外包的定义也指出,离岸外包可能要求服务提供商成为客户的子公司或合作伙伴公司,而"纯"外包公司则始终是自主的。
The Difference Between Nearshoring and Onshoring
近岸外包和在岸外包间的差异
Companies can also nearshore or onshore business processes. The different types of "shoring" determine the geographical distance between the involved parties. However, in all three models, the cost is the primary driver.
公司也可以近岸外包或在岸外包业务流程。不同类型的"岸"决定了相关方之间的地理距离。然而,在全部这三种模式中,成本是主要驱动力。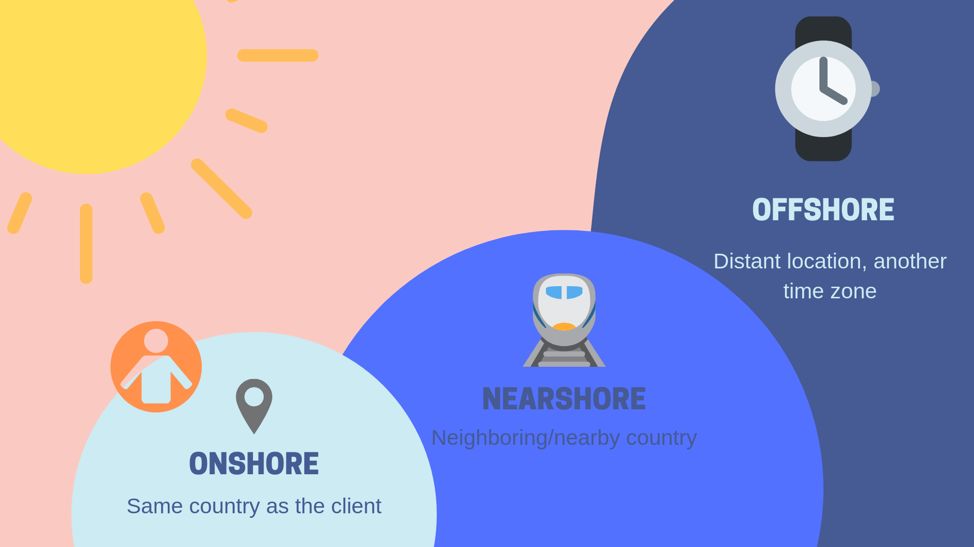 Nearshoring moves service providers closer to the client than offshoring. In this model, work is transferred to a company based in a country within the same region as the client.
与离岸外包相比,近岸外包使服务提供商更靠近客户。在这种模式中,工作被转移到与客户位于同一地区内的一个国家的公司。
Because of greater geographical proximity, a company can still benefit from lower wages and more cost-effective processes, while reducing some barriers of offshoring.
由于地理上更接近,公司仍然可以从较低的工资和更具成本效益的流程中获益,同时减少离岸外包的一些障碍。
Onshoring, by analogy, refers to the transferring of business processes to a business operating in the same country or even city as the client.
类比而言,在岸外包指的是将业务流程转移到与客户在同一个国家甚至城市运营的公司上。
5 Biggest Misconceptions About Remote Outsourcing
对于远程外包的五大错误想法
Modern businesses recognize the potential of remote outsourcing to create business value beyond savings. By delegating responsibilities to external teams with expert skills and know-how, organizations tap company-wide benefits.
现代企业认识到远程外包来创造超越节省成本的商业价值的潜力。通过将职责委派给具有专业技能和专门知识的外部团队,机构可以利用全公司范围内的优势。
They can transform internal operations, expand their offering, enter new markets, and incentivize innovation. Understanding these new advantages of retaining external teams is as crucial as breaking down some common stereotypes on remote outsourcing.
他们可以改变内部运营,扩大他们的供应,进入新市场,并激励创新。了解保留外部团队的这些新优势同打破一些关于远程外包的普遍成见一样重要。
Myth 1: Remote Outsourced Teams Speak Poor English
误解1:远程外包团队的英语很差
Globalization has turned English into a lingua franca that connects people around the world. As a result, global English proficiency has significantly increased, and numerous offshoring countries have adopted it as an official business language.
全球化已经使英语成为连接世界各地人们的通用语。因此,全球英语水平显著提高,许多离岸外包国家已经将英语作为官方商务语言。
Companies looking to realize the benefits of outsourcing, especially remote outsourcing, can gain a good understanding of English communication skills across various geographies from the EF Proficiency Index, a global ranking of countries by level of English skills.
公司寻求实现外包收益,特别是远程外包,能够通过英孚熟练度指标,一项全球英语技能熟练度的国家排名,很好地了解覆盖各种地域的英语交流技能情况。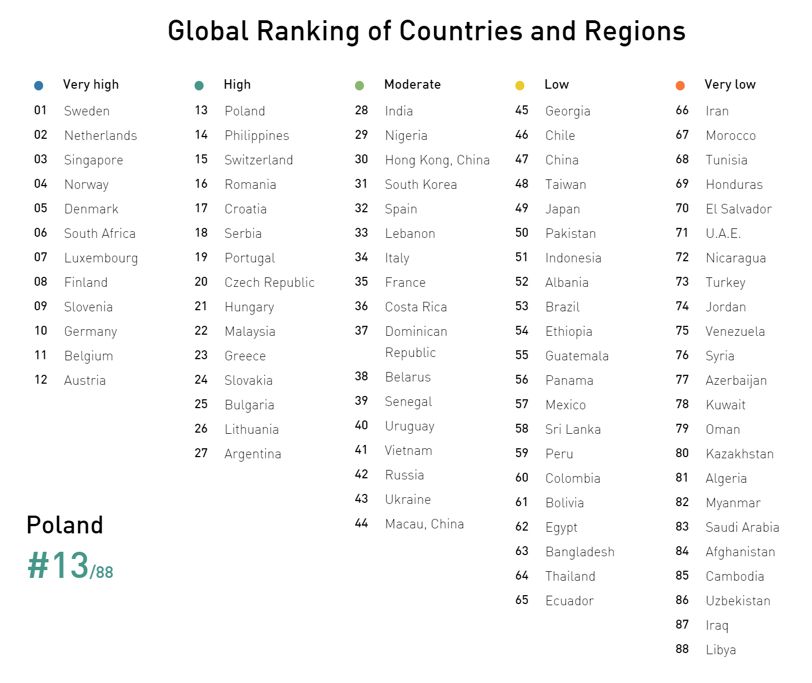 Popular remote outsourcing regions such as Poland, Slovenia, Czechia, or Romania rank in the top 20, which demonstrates that the language barrier in outsourcing is practically non-existent today.
受欢迎的远程外包地区如波兰、斯洛文尼亚、捷克、罗马尼亚位列前20位,这表明外包的语言障碍在今天实际上是不存在的。
Myth 2: Hiring Remote Teams Only Makes Sense for IT and Financial Divisions
误解2:雇用远程团队只对信息技术和财务部门有意义
While technology and telecommunications are the primary industry sectors for outsourcing, nowadays, all businesses could benefit from external teams.
尽管技术和电信是外包的主要行业部门,但如今,所有企业都可以从外部团队中获益。
The emerging outsourcing areas include content marketing, SEO, UX and web design, research, data analytics, translation, and localization.
新兴的外包领域包括内容营销、搜索引擎优化、用户体验和网页设计、研究、数据分析、翻译和本地化。
These are highly-specialized services so maintaining an internal team to deliver them on a full-time basis could be quite costly, especially for growing businesses.
这些都是高度专业化的服务,因此维持一个内部团队来以全职为基础交付这些服务可能会非常昂贵,特别是对于成长中的企业而言。
To save on these expenditures, these organizations turn to remote outsourcing providers.
为了节省这些开支,这些机构求助于远程外包提供商。
Myth 3: Only Big Companies Outsource
误解3:只有大公司才外包
That's probably one of the biggest misconceptions regarding external teams. Moving internal processes to third-party specialist teams have already become a common practice among enterprises. Now, small and medium organizations are embracing that trend. As research indicates, currently, more than one-third of small businesses outsource at least one process, and this number is projected to grow.
这可能是对于外部团队最大的错误想法之一。将内部流程转移到第三方专业团队已经成为企业的普遍做法。现在,中小型机构正在拥抱这一趋势。研究表明,目前,超过三分之一的小企业至少外包一个流程,而且这个数字预计还会增长。
Instead of wasting time and budget on part-time workers or grappling with inexperienced interns to get the job done, a tremendous number of SMEs retain skilled freelancers and external agencies to deliver exactly what's needed, fast.
取代浪费时间和预算在兼职工作人员身上,或同经验不足的实习生打交道来完成工作的是,大量中小型企业聘用熟练的自由职业者和外部机构,来快速、准确地提供所需的服务。
Myth 4: Communication Barriers Are Impossible to Overcome
误解4:交流障碍不可能被克服
Many companies hesitate about delegating work to remote external teams for fear of communication disruptions. Certainly, establishing an efficient communication model is vital for efficient and profitable collaboration with any outsourcing partner, whether an individual or a company.
许多公司因为担心通信中断,在对将工作委派给远程外部团队时犹豫不决。当然,建立起一个有效的沟通模式对于同任何外包合作伙伴(无论是个人还是公司)进行高效和有益的合作至关重要。
Fortunately, there's no shortage of cloud-based collaboration and productivity tools, such as ClickUp, Trello, Podio, or Asana, that connect geographically dispersed teams and enable efficient project tracking.
幸运的是,并不缺少基于云的协作和生产力工具,例如ClickUp、Trello、Podio或Asana,这些工具连接地理位置分散的团队并使高效的项目跟踪成为可能。
For these solutions to be effective, a remote outsourcing team must understand each role involved in a project and recognize the chain of command and responsibilities.
要使这些解决方案有效,远程外包团队必须了解项目中涉及的每个角色,并认可指挥和职责链。
By defining communications metrics such as frequency of calls, promptness of response, SLA requirements, or escalation procedures, companies can ensure everyone in the team is on the same page, and provide for a secure and traceable exchange of information.
通过定义沟通指标,如呼叫频率、响应的及时性、服务等级协议要求或升级程序,公司可以确保团队中的每个人都在相同进度,并提供安全和可追踪的信息交换。
Myth 5: Working With Different Time Zones Is a Hassle
误解5:在不同时区工作是一种麻烦
Dealing with time zone differences can be a nuisance in projects that require frequent meetings and immediate communication, but in most cases, these challenges can be easily managed.
在需要频繁会议和即时通讯的项目中,处理时区差异可能是一件麻烦事,但在大多数情况下,这些挑战可以容易应对。
In particular, web development, content creation, database management, and payroll distribution services allow a great deal of independent work that doesn't require constant oversight or immediate response.
特别是,网站开发、内容创作、数据库管理和工资分配服务允许大量的独立工作,而不需要持续的监督或立即的响应。
Additionally, in most outsourcing arrangements, there is some time overlap that leaves room for real-time communication. Many remote agencies and freelancers work flexible hours which often means they can adjust to the client's schedule.
此外,在大多数外包安排中,存在一些时间重叠,为实时通信留出了空间。许多远程机构和自由职业者工作时间灵活,这通常意味着他们能够调整以适应客户的日程安排。
Some companies actually treat the time zone gap as an added advantage: Conducting business with a remote outsourcing staff gives them the benefit of "follow the sun" working model, where they obtain around-the-clock continuity of workflows that allows them to speed up project delivery, increase responsiveness, and avoid delays.
一些公司实际将时区差异视为附加优势:同远程外包员工开展业务为他们带来"追随太阳"工作模式的好处,在这种模式下,他们可以获得工作流的全天候连续性,从而使他们能够加快项目交付、提高响应能力并避免延误。
Consider Hiring External Remote Teams to Help Your Business Scale
考虑雇用外部远程团队来帮助您扩大业务规模
In the past, the main motivation behind outsourcing work, particularly in the offshoring model, was cost-driven. Now, this traditional approach has changed.
在过去,外包工作背后的主要动机,特别是在离岸外包模式下,是成本驱动。现在,这种传统取向已经改变。
New technologies are dissolving the geographic barriers that once prevented people in different countries and time zones to work together. Now, firms of all sizes retain remote service providers to leverage a global knowledge base, roll out services faster, and enjoy the flexibility so characteristic of dynamic, forward-thinking businesses.
新技术正在消除曾经阻碍不同国家和时区的人们之间合作的地理障碍。现在,各种规模的公司保留着远程服务提供商,利用全球知识库,更快地推出服务,并享受动态、前瞻的企业特性所带来的灵活性。